When:
October 8, 2020 – October 13, 2020
all-day
2020-10-08T00:00:00+03:00
2020-10-14T00:00:00+03:00
Where:
Fykiada Retreats
Rocabella Mykonos
ASHTANGA RETREAT | MYKONOS
LARUGA GLASER & DAVID FREDRIKSSON | 8-13 OCTOBER 2020
---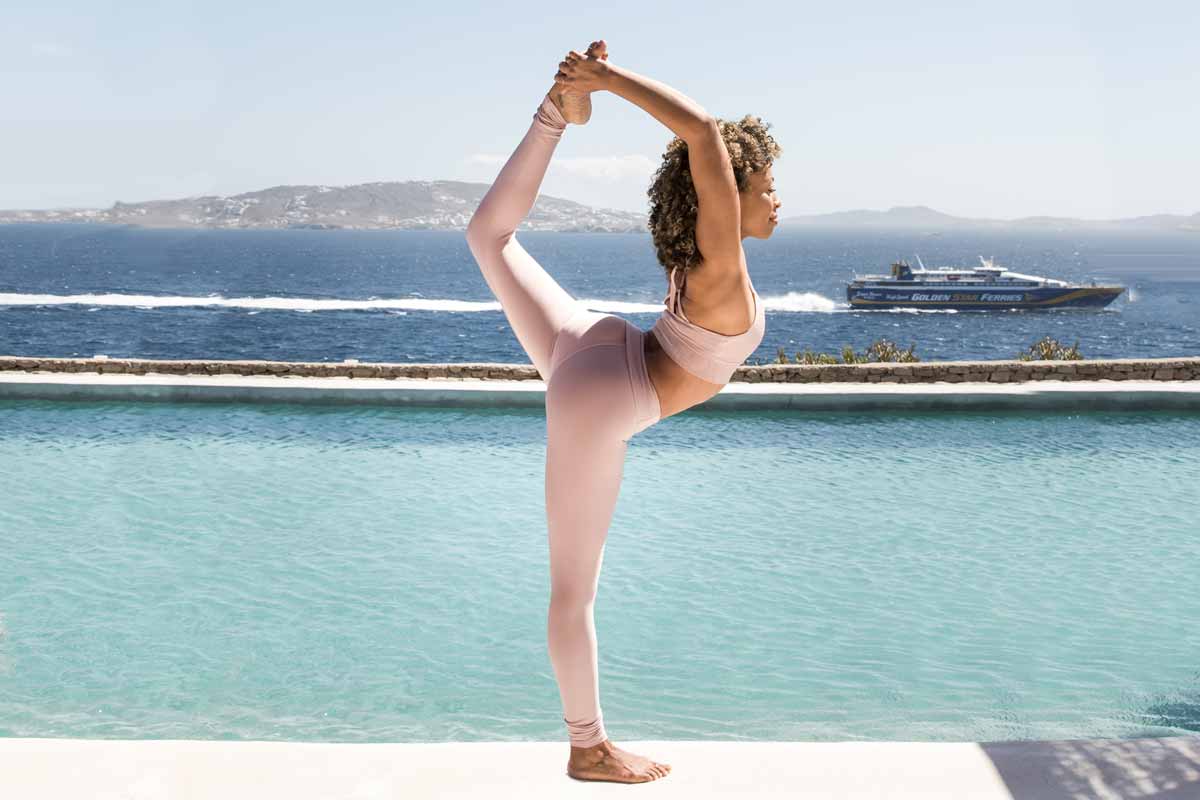 THE EXPERIENCE
It's an absolute honor to host for a 4th time in a row one of the most senior Ashtanga teachers in the world with a Level 2 Certification. What's special about this retreat is the fact that our guests have an almost one to one teaching experience with Laruga & David tailored to their needs and level of practice. Both teachers are present in the morning and afternoon sessions guiding a small group of practitioners to their best potential. Regardless where you're at the Ashtanga series, this is a retreat to deepen, better understand and enrich your practice.
Alongside the yoga schedule, you'll have the chance to enjoy your stay at one of the most boutique locations in Mykonos, featuring an award winning restaurant, an infinity pool, a covered sea-gazing shala and spacious Cycladic-style rooms with a sea-view to the Aegean. To top that, we have prepared a series of cultural and outdoor activities to get a real taste of Mykonos.
"A tailored Ashtanga practice, a fine stay & a true taste of Myconian culture"
OUR LUXURY YOGA RESORT
Our Mykonos resort is the absolute 'let go' place awarded for excellence for four consecutive times by TripAdvisor. From the very moment you set foot on the hotel, the warmth of the stuff and the simplicity of the design invite you to leave everything behind and just let yourself be…
The excellent central location of the resort offers full autonomy to its guests as it's just a 10min walk away from a beautiful sandy beach and 15min ride from Mykonos town. You can either use the resort's shuttle bus or get one of our eco-bikes. Click for more info and room photos.
YOGA WITH LARUGA & DAVID
The yoga classes will be a balanced blend of Mysore practice and Ashtanga specific workshops. Mornings will be dedicated to sitting in silence as well as chanting, to then commence the Mysore practice. David will be overseeing the beginners, adjusting and going through the Primary series, while Laruga will be guiding intermediate and more advanced students throughout their practice.
The afternoon classes will be workshops going deeper into the foundations of the Ashtanga yoga practice. In between practices Laruga will lead a yoga philosophy session followed by group discussion. By the end of the week, you will have a greater grounding in all aspects of Ashtanga and leave the retreat recharged & maintaining the gift of yoga. * All practices are open to all levels from beginners to more advanced yogis. | Maximum number of guests: 20
" An almost one to one teaching experience with Laruga & David tailored to your needs"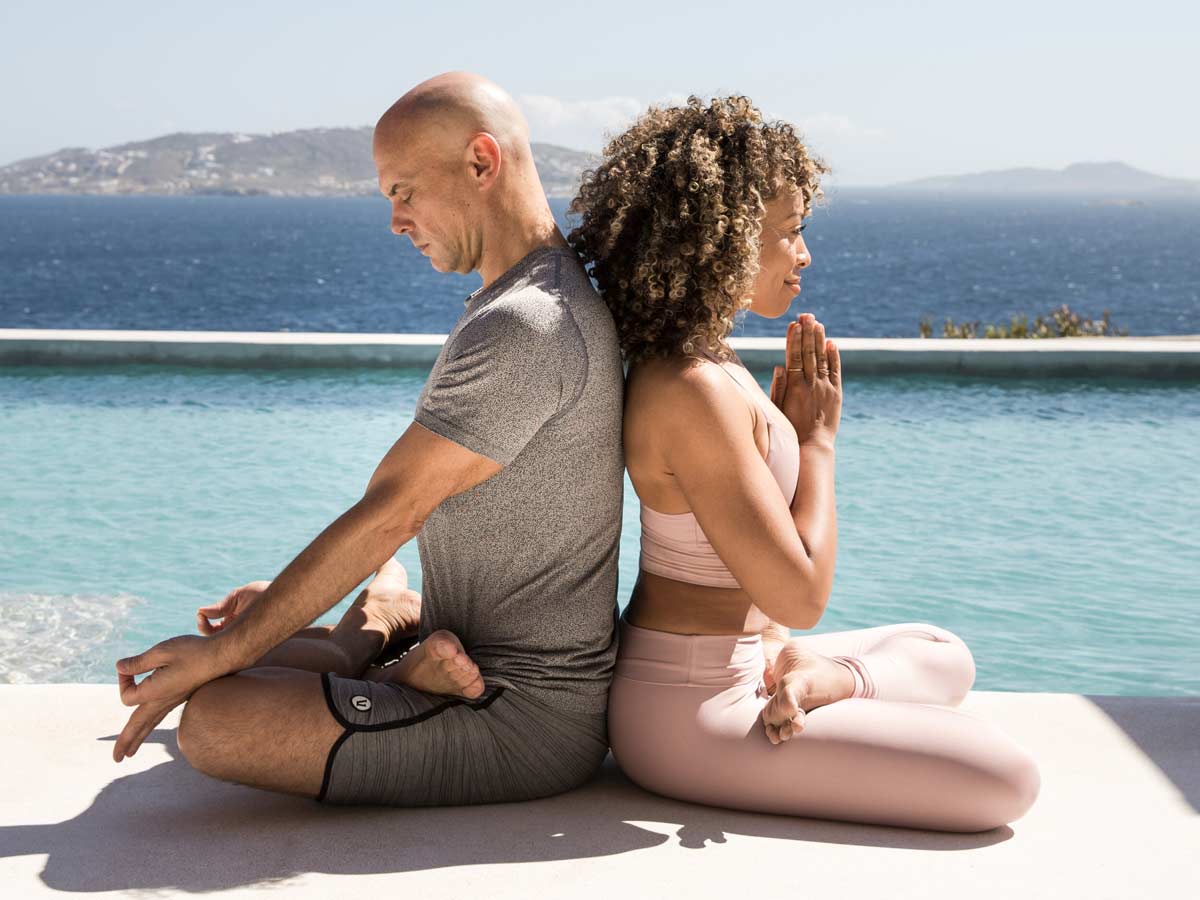 Laruga Glaser is an advanced level practitioner and student of yoga as well as a Level 2 Certified Teacher, bringing with her a combined total over 25 years experience instructing body movement. Laruga teaches as an act of deep sharing and love for what yoga develops in each individual. Read more about Laruga here.
David Fredriksson took his first Ashtanga Yoga class in 2006 and from that point on, he has not stopped. In January 2011 he received his Level 1 Authorization to teach from his teacher, R. Sharath Jois. In Sweden, David teaches and assists alongside his teacher, Laruga Glaser. Read more about David here.
A GOURMET TASTE OF GREECE
We've created a bespoke food experience with the resort's team to deliver the best of Greek nature at your plate in the most creative way. The hotel's Award Winning breakfast is a pandemonium of island goodness served in the most sophisticated set up. A special vegetarian / vegan section has been created specifically for our retreats where you can enjoy a delicious variety of non-dairy and gluten free options.
The highlight of this culinary journey is a tailor-made dinner experience. The chef is one of the most acclaimed Greek chefs and has created a special blend of Greek style sharing plates and one fine-dining three course fish dinner just for Fykiada Retreats. His approach to Greek cuisine is modern, yet based on traditional recipes made with the best quality ingredients. Greek food experience taken to a whole new level!
THE RETREAT INCLUDES
5 days / 5 nights – luxury accommodation at sea-view resort
Morning Mysore practices & evening Ashtanga workshops with Laruga & David
Yoga philosophy session with Laruga
Daily brunch with a variety of non-dairy & gluten free options as well as an à la carte menu
Four dinners at the hotel's award winning restaurant:
3 dinners to be served on a Greek style set up with sharing plates.
1 dinner to be served as a three-course fish menu fine dining experience.
Yoga equipment (Manduka mats, straps, blocks)
Mykonos airport pick-up & drop-off
ACTIVITIES
Cultural lunch & guided tour at a Myconian Homestead
Hiking to the deserted lighthouse of Mykonos to enjoy spectacular sunset views.
Sailing Day in Delos with a stop-over to swim at the magical waters of Rhenia and a Greek-style lunch on board! (extra cost)
Eco-bikes to cycle around the area
A stroll at the alleys of Mykonos Chora followed by a special dinner out (extra cost for dinner)
Spa treatments and therapies
ACCOMMODATION OPTIONS & RETREAT PRICING
SHARED ACCOMMODATION | TWIN ROOM
Superior Sea View room with two single beds & en suite bathroom — 2.290€ per person Deluxe Sea View room with two single beds & en suite bathroom — 2.490€ per person Deluxe Sea View room with outdoor spa, two single beds & en suite bathroom — 2.690€ per person
SHARED ACCOMMODATION | QUEEN ROOM
Superior Sea View room with Queen size bed & en suite bathroom — 2.290€ per person Deluxe Sea View room with outdoor spa, Queen size bed & en suite bathroom — 2.690€ per person * Suggested for couples, friends or family who are willing to share a Queen-size bed!
SINGLE ACCOMMODATION | QUEEN ROOM
Small room with Queen size bed & en suite bathroom (no view) — 2.990€ Superior Sea View room with Queen size bed & en suite bathroom — 3.490€ Deluxe Sea View room with Queen size bed & en suite bathroom — 3.690€ The above prices include EU Tax VAT 24%. There is a 600€ non refundable booking fee to reserve your place in the sun!
Payment plans available
View room photos here
A TYPICAL DAY
8.00 – 8.30         Herbal Tea | Coffee | Seasonal Fruits
8.30 – 10.00       Morning Mysore Practice
10.00 – 11.00     Brunch
11.00 – 17.00     Activities | Beach | Free Time
17.00 – 18.30     Afternoon Workshop
19.00 Dinner
CHECK IN | OUT
8th Oct: Room Check in: 15:00
13th Oct: Room Check out: 12:00
The retreat officially starts at 17:00 with the first practice
In case your flight arrives earlier, there is a luggage room and a change room to leave your stuff and spend some time by the pool or the beach.
TRAVEL INFO
You can either fly directly to Mykonos airport (code JMK) or take the ferry from Athens to the island. Boats to Mykonos run daily and operate from the port of Piraeus (code: PIR) and the port of Rafina (code RAF).
Tickets can be booked online at viva.gr.
* We advise our guests to allow one day prior and after the retreat for their traveling.