When:
May 19, 2024 @ 10:25 pm – June 2, 2024 @ 11:25 pm
2024-05-19T22:25:00+02:00
2024-06-02T23:25:00+02:00
Where:
Kemetale Luxury Sailing Vessel

Contact:
Kemetale Luxury Sailing Vessel
+1 518 441 3559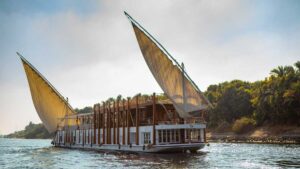 Ashtanga Yoga Ancient Sites
Nile Cruise Retreat
Luxor to Aswan, Egypt
19 – 24 May 2024
---
Ancient Journey Along the Nile.
Discover the ancient beauty of Luxor and Aswan in Egypt.
Mornings will start with Ashtanga yoga practice, while devoting the rest of the day, going back in time, sailing the Nile and viewing the inspiring sites.
Our 5-nights cruise starts at the legendary city of Luxor, the ancient capital city of "Thebes", today a breathtaking open-air museum, all the way south to Aswan. Along the way we will visit ancient sites and temples like Esna, Edfu, Silsila Stone Quarry, KomOmboand Aswan.
Activities while sailing include morning treks, swimming, picnics, a donkey stroll through the sugar cane fields, BBQ's and live music performances by local artists.
For those who love ancient history, adventure and yoga this will be a trip to remember.
























KEMET NILE
DAHABEYA BROCHURE
5 NIGHT ITINERARY
Luxor to Aswan
DAY 1 
Arrive Luxor May 19th by 8:30 AM (we recommend arriving no later than 8:30am
Visit Karnak and Luxor temples & board Kemet by 2 PM.
Overnight in Luxor.
In the evening there will be a casual gathering with Laruga.
DAY 2
Early Ashtanga Mysore Practice.
Visit Valley of the Kings, Hatshepsut Temple & Colossi of Memnon.
Overnight before Esna Levy. 
DAY 3
Early Ashtanga Mysore Practice.
Sail south through the Esna levy, Visit Esna town & Temple of Khnum.
Continue sailing south overnight in Fawazah.
DAY 4
Early Ashtanga Mysore Practice
Visit Island Village of Bassau followed by El Silsila Quarry & Temple
Sail & overnight in Bisheer.
DAY 5
Early Ashtanga Mysore Practice
Sail to Kom Ombo and visit the temple, Sail to the Island of Herbiab for swimming, BBQ & Live music. 
Day 6 
Early Ashtanga Mysore Practice
Arrive Aswan early morning, breakfast & disembark.
Visit the Philae Temple & the Great Dam and transfer to Aswan Airport for flight to Cairo (recommend booking departing flights after 2:00PM)
5 Yoga sessions with Laruga and afternoon gatherings.
Curation by a Kemetale Host or Hostess.
Concierge: support with all needs while cruising.
Private Egyptologist for your entire cruise
Transfers at cities of embarkation and disembarkation
Private transport for itinerary visits
Meals: Light lunch and dinner on day 1, breakfast, lunch, and dinner for day 2,3,4 and breakfast on the checkout morning. We source locally and sustainably. Farm to table, seasonally changing fruit, and vegetable influences. In addition to our resident chef, we have a local "moms home cooking" in Luxor just for the true experience of home cooked traditional Egyptian cuisine.
Seasonal home-made jams, cheese, bread. Infused and plain olive oil pressed fresh in a village nearby.
Unlimited Mineral water. We encourage personal water bottles as we offer water dispensing on the boat. We try not to use any single-use plastic. Ice is made using mineral water as well as all the cooking.
Fresh juices (mostly in season fruits) we don't carry nor use cardboard juice boxes.
Traditional special juices: Hibiscus, Doum, Tamarind, Liquorish.
Environmentally conscious Bed & Bath amenities including natural soaps and body wash (all natural and guilt free by Indigo Soapworks & Tazimurt), premium local cotton linen and towels.)
Use of the entire boat including on board entertainment, music, board games, reading materials, puzzles, etc.
Our signature BBQ, stargazing picnic.
A local music event.
Snacks, hot and cold nonalcoholic beverages, fresh juices and mineral water.
Other facilities; 100-inch screen and mobile projector for screening indoors or outdoors, mobile music speakers, internet (free until package needs to be renewed- suitable for all to browse, make audio calls, share pics etc.. Video streaming will deplete the package).
Optional activities such as swimming and trekking.
Private Crew consisting of a captain,4 sailors, kitchen team (3), housekeeping (2), service (2), mechanic (1) and Host (1)
Gratuity to staff and guide as seen fit based on level of service. 

Gratuity is part of the fabric of Egyptian culture. Not only from the economic dependency but a clear reflection on the level of service and helpfulness of the provider. Feel free to consult your travel agent or host for guidance or recommendations.

Entry tickets to monuments such as temples, museums etc.…

We don't include this because various qualifications vary the price of the tickets, not all the group members may want to visit some of the decided itinerary visits and various types of tickets within the  same sites are available for a choice, e.g. Valley of the Kings has  general tickets and tickets for up to 5 different tombs.

Alcohol
Additional Internet packages
Any additions requested by Client.
































Single occupancy: $3638.00 / Person
Double occupancy: $2787.00 / Person
Availability
A Total of 7 rooms available of which
3 single occupancy rooms available 
4 double occupancy rooms available 
We require a 25% deposit to confirm the dates and the balance 75% is due three months prior to the sailing date.
Final payment is 75% is due 12 weeks prior to Sailing Start Date.
Cancellation after full payment
This applies to 100% of the paid value.
– 12-8 weeks prior to sailing date; a choice between 100% travel credit valid for 1 year or 75% refund.
– 8-6 weeks prior to sailing date; a choice between 75% travel credit valid for 1 year or 50% refund.
– 6 weeks prior to sailing date; 0% refund.
Payment methods accepted are:
Bank Transfer
Venmo
Paypal (Friends and Family)
Credit Card (incurs 4% fee)
Items not included, that clients will need (estimated budget)
Tickets for monuments on the cruise itinerary: ~$100.00 / person
covers cruise itinerary – basic entry tickets to all listed monuments.
Gratuity for Guide & Cruise crew
~$90 to ~$130 per person (depending on level of service)
Local flights:
Cairo to Luxor and Aswan to Cairo ~$260.00 per person (as of now)
Optional Additional Travel Arrangements
Kemetale can provide additional services to complement the cruise retreat as follows.
Design, Curation & concierge services for travel in Egypt before or after the cruise such as; 
Cairo
Alexandria
Desert (Siwa or Dakhla or Fayoum)
Sea (Marsa Alam, Dahab, Gona)
Special Experiences (Example, Food tour, Popup Felucca, Hosted shopping tour, desert picnics etc.)
Meet and assist at Cairo international Airport 
Guide
Transportation 
*Please inquire with Kemetale regarding additional travel arrangements
For More Information and Booking
Email: [email protected]
Please include: Laruga Retreat in your subject email
Whatsapp: +1518-441-3559
For Further Information on the Location